KMS Tools has been written by the author for the purpose of integrating all-in-one copyright activation tools. Currently with the version released in early August has 16 copyright activation tools.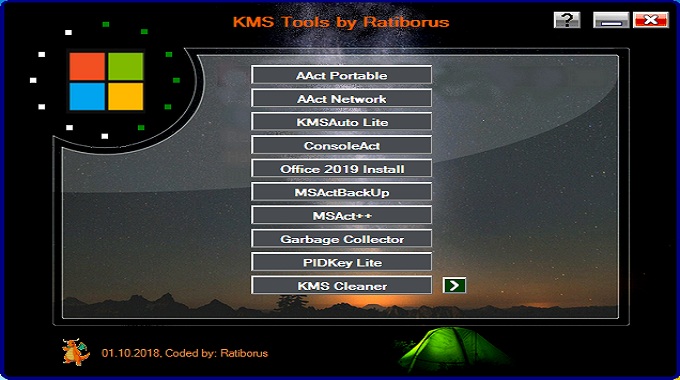 Information about the file KMS Tools Portable Download – Activate all in one:
+ File name: [0ffici@l@ctiv@te.c0m]KMS_T00ls_P0rt@ble_v14.12.2021.
+ File format: .rar.
+ Size of the file you is about to download: Size : 57.2 MB.
+ Version: v14.12.2021 (The final version) – 14/12/2021.
+ Post date: 05:51 PM – 31/08/2019 | UTC +7.
+ Source free download link: file4 where you download the file at officialactivate.com.
You return to the OfficialActivate.com homepage to download the Official Activate versions!
HOW TO USE:
1. Download the software from the link below and unzip the password to enter "officialactivate.com".
2. Run the "KMSTools.exe" file and select the one tool you need, including the following:
+ AAct Network v1.2.4 Portable.
+ AAct v4.2.5 Portable.
+ ConsoleAct v3.3 Portable.
+ Defender Tools v1.1.1.
+ Garbage Collector v1.3.8 x86_x64_31_10_2020.
+ KMSAuto Lite Portable v1.6.4.
+ KMSAuto Net 2016 v1.5.4 Portable.
+ KMSCleaner v2.2 Portable.
+ KMSoffline v2.3.5 RU EN.
+ MSAct++ 2.07.4.
+ MSActBackUp Portable v1.2.6.
+ Office 2013-2021 C2R Install v7.3.7.
+ Office Uninstall v1.8.3.
+ PIDKey Lite v1.64.4 b19 RU EN and more.
+ UniCrypt 2016 v2.2.
+ W10 Digital Activation Program v1.4.5.3 Portable.
** Error "xxxxxxxxxx – .NET Framework Initialization Error":
+ You open the file ".Net_Framework_v4.5_Full_setup.exe" and proceed with installation until complete!
Password : officialactivate.com
Backup Link : One Drive